What meat lover can deny the pleasure of good fried chicken? Indeed, fried chicken with perfectly crispy skin and juicy inside has become a modern staple you can't avoid. Moreover, with the variety of styles to choose from, chicken has never been this tempting or tasty. So, sit tight as we take you through a salivating list of places that serve the best fried chicken in Chicago. And then you can decide which one could be your favorite from the yummy menus they offer.
Our compilation has been a labor of love. So, we hope it inspires you enough to get yourself a serving of some delicious fried chicken.
Nevertheless, that's enough doting. Let's dive right in.
Uncle Remus
"Best Value Fried Chicken in Chicago"
Doesn't the name already feel welcoming and homely? Well, it sure does, and for a good reason. Uncle Remus is perfect if you're looking for a place to eat out with the family. It's spacious and got friendly staff. And if savory is what your palate loves, you're surely in for a treat at Remus'.
While at Uncle Remus, try out their Mixed G-pan with one of their delicious flavor-packed sauces. Also, their 6 Wing Value Meal- a favorite among regular customers. You bet they taste as good as they look.
Besides, you can even order some hot fries, jalapenos, and super-creamy Cole Slaw to go on the side. Now, that's undoubtedly going to satisfy your tastebuds. Tie up the flavor fest by munching on their subtly sweet dinner rolls. And viola- that's a meal to hit the spot!
https://www.instagram.com/p/BsfHQ0fD_eR/
Addresses:
15611 W Madison St, Chicago, IL 60644
737 E 47th St, Chicago, IL 60615

5 Loaves Eatery
"Best Classic Fried Chicken in Chicago"
Now, 5 Loaves Eatery is an award-winning place that's all about community. And the sumptuous meals they serve are a testament to that. Indeed, 5 Loaves Eatery delivered such great fried chicken that it even made WGN's list of Chicago's Best Fried Chicken.
So, if you're looking for some classic fried chicken, look no further than 5 Loaves. 5 Loaves Southern Fried Chicken has attained near perfection over the years with a recipe that'll please any meat-lover that knows their food.
Also, it comes with buttermilk biscuits or pancakes. And you can even choose potatoes, rice, or grits to go on the side.
Further, explore 5 Loaves fantastic breakfast and lunch menu to find out what else could go with classic fried chicken.
Address: 405 E 75th St, Chicago, IL 60619
Honey Butter Fried Chicken
"Best Dressed Fried Chicken in Chicago"
So, good old fried chicken made the traditional way is perfectly delicious. But perhaps you want to try something different for a change. And this is where Honey Butter Fried Chicken steals the scene.
Honey Butter's fried chicken has a dressing of, yes, juicy honey butter. And believe us, it's an utterly pleasant surprise how good it tastes. It is undoubtedly one of the best fried chicken in the city. Most importantly, do not miss out on their Original Fried Chicken Sandwich. Now, this one's raved about by almost anyone who has tried it.
Also, Honey Butter serves some incredible combo dishes. So, you might want to try them out for a welcome assault on your tastebuds. We're talking, pimento mac and cheese with cornbread, tofu, killer BBQ, salads, and biscuits. Yum!
https://www.instagram.com/p/CL7Mms3p8G9/
Address: 3361 N Elston Ave, Chicago, IL 60618
Big Boss Spicy Fried Chicken
"Best Innovative Spicy Fried Chicken in Chicago"
If heat is what you're all about, Big Boss Spicy Fried Chicken is going to absolutely floor you. Now, this baddie took inspiration from the famous Nashville hot chicken and Belizean fried chicken. So, expect nothing less than exceptional spiciness and crunch. And, of course, packed with loads of flavor.
Big Boss spicy fried chicken gets all its heat from a blend of seven infamous chilies. And yes, that includes ghost pepper, bell pepper, and jalapeno. Also, you bet they've got some of the best selections of dipping sauces out there. So, take note.
Get the famous Big Boss sandwich with big chunky boneless fried chicken. It comes with a butter bun and coleslaw. Also, try out their refreshing beverages to balance out all the heat and grease.
Address: 2520 S Halsted St, Chicago, IL 60608
Lucy's
"Best Fresh Produce Fried Chicken in Chicago"
Who can resist the pull of quality spicy fried chicken served with a great story? Well, Lucy's is where you'll get both.
So, Lucy's is an eatery paying homage to the spicy women of the 1960s in America. And their star Spicy Fried Chicken could not have been a more fitting tribute. Made from ingredients of the best quality and recipes, Lucy's bound to leave you drooling for seconds.
Indeed, we're talking Amish raised chickens, double-fried fries with no preservatives, and quality sandwich bread. So, gorge on Lucy's signature Spicy Fried Chicken and Fried Chicken Pieces with zero guilt.
Also, compliment the chicken with coleslaw, pickles, American cheese, and a great selection of dipping sauces. Really, what else could you want? It is most befitting of a spot amongst the best fried chicken in Chicago.
https://www.instagram.com/p/CMfgxwWByu0/
Addresses:
1043 N California Ave, Chicago, IL 60622
4570 N Broadway Ave, Chicago, IL 60640

The Roost
"Best Traditional Spicy Fried Chicken in Chicago"
As the name suggests, The Roost dedicates itself to good chicken served right. And you've got to appreciate the effort. Besides, if you're looking for a casual meal, this is the place to be.
The Roost serves both Bone-In and Bone-Out Fried Chicken. So, if you want to wolf on big chunks of fried chicken, we suggest you go for the Bone-In. You get to choose between spicy, Nashville hot, or herb-seasoned. And as for the Bone-out, a biscuit or Kaiser roll sandwich is perfect.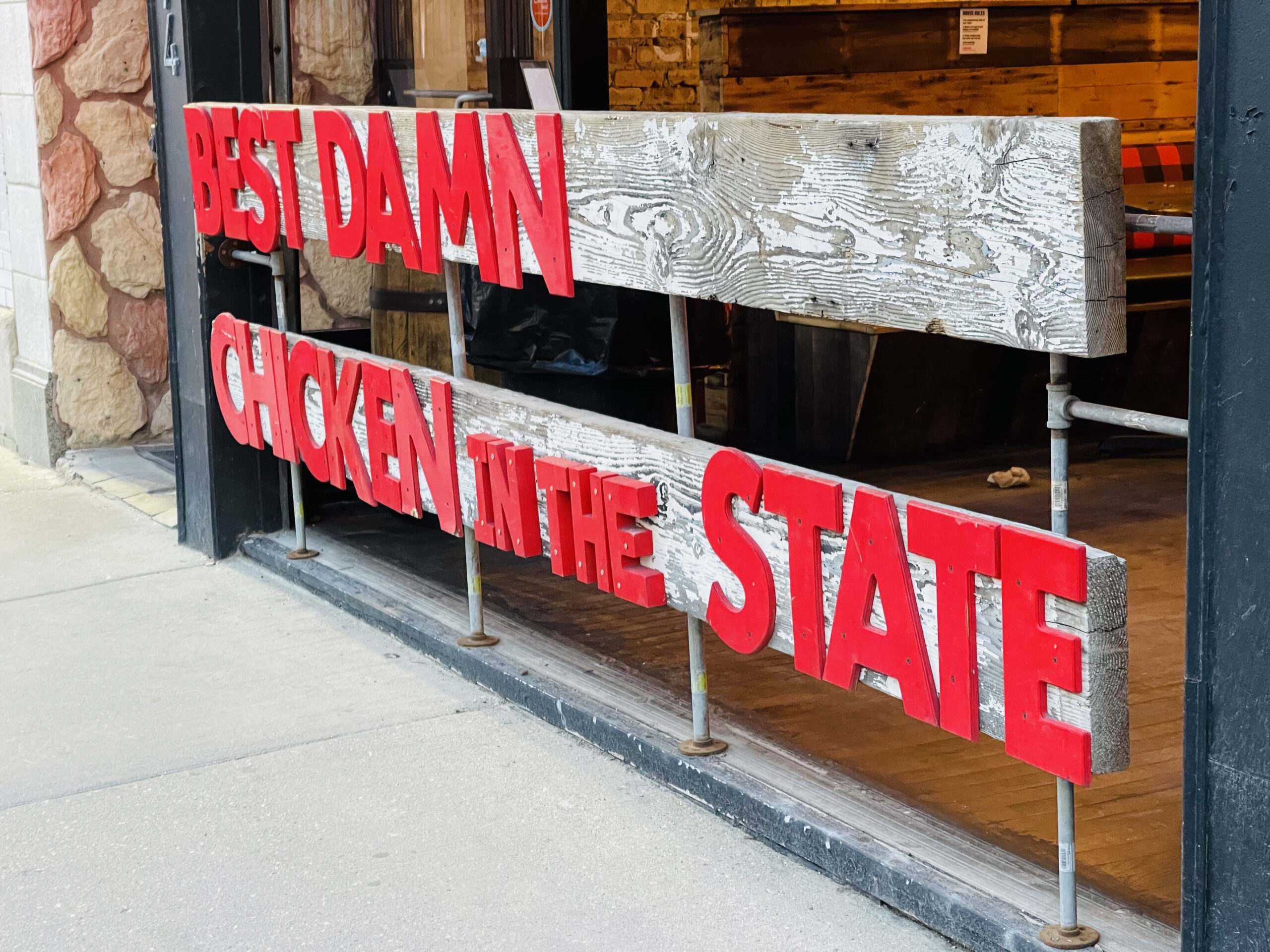 Also, The Roost serves refreshing coleslaw, pickles, well-seasoned homemade fries, and super-creamy Mac and Cheese. So, make sure you order them on the side to compliment your chicken in true Southern style.
Addresses:
1467 W Irving Park Rd, Chicago, IL 60613
3474 N Clark St, Chicago, IL 60657
457 N Milwaukee Ave, Chicago, IL 60654
400 S Financial Pl, Chicago, IL 60605

Split-Rail
"Best Health-Conscious Fried Chicken in Chicago"
For those looking for a healthy and tasty bite in a charming midwestern setting, Split-Rail is one chic place that'll deliver. Indeed, the food here will convince you that healthy eating need not be a bland, unpalatable, or plain tedious ordeal.
Split-Rail has a well-crafted and straightforward menu. And this simplicity is what's made the place able to hone their fried-chicken close to perfection. So, you can expect crunchy and flavourful fried chicken with equally delicious side dishes and dips here.
Try out Split-Rail's Piece Fried Chicken for a regular bite. Or go for Gluten-Free Fried Chicken or Vegan Fried Chicken for a healthier option.
Nevertheless, you can't go wrong flavor-wise. Also, side dishes include salad, biscuits, mashed potatoes, and some good Mac and Cheese.
https://www.instagram.com/p/CLkKfVDhGTm/
Address: 2500 W Chicago Ave, Chicago, IL 60622
Dancen
"Best Spicy Korean Fried Chicken in Chicago"
Dancen is a charming little Korean place, famous for its fantastic menu featuring a wide range of Korean dishes. And despite its petite size, you'll find them dishing out servings upon servings of delicious food with such ease and finesse.
While at Dancen, knock yourself out with their gorge-worthy Fire Chicken. Now you might want to tone down the spice if you've got a sensitive palate. But if you enjoy the heat, go for it. Besides, they serve fresh raw cabbage with a zingy Thousand Islands dressing. So, it won't be so hard to deal with the heat.
Also, add on some thick cheese to soothe the tastebuds, along with a bottle of Soju or rice wine. In short, Dancen is perfect for a casual night out with friends after a long day. So, if you're looking for a chill place to release, Dancen is it.
Address: 5114 N Lincoln Ave, Chicago, IL 60625
Club 81 Too
"Best Fried Chicken and Coleslaw Combo in Chicago"
Chicago's Club 81 Too at Hegewisch sits at the Polish end of the city. And no doubt, this place is where they take their frying seriously. While they specialize in seafood, their fried chicken sits champion with delectable crunch and juiciness you cannot afford to miss.
Furthermore, Club 81's fried chicken is all crisp on the outside and buttery on the inside. But with none of that excess grease. And of course, there's signature coleslaw with a killer recipe refined over 65 years of experimenting.
Indeed, Club 81 is one heck of an exciting place with an eclectic and charming atmosphere that complements their dishes perfectly. So, if you're ever in south Chicago, stop by at Club 81 Too for some of the best fried chicken in Chicago.
Address: 13157 S Avenue M, Chicago, IL 60633
The Budlong Hot Fried Chicken
"Best Fried Chicken and Pickle Combo in Chicago"
We've established spice and fried chicken to be the magic combo to satisfy a craving by now. And Budlong does this exceedingly well with their hot chicken servings.
At Budlong's, you get to choose between two stellar options of hot-fried chicken. It's either White Hot Chicken or Dark Hot Chicken with a classic Texas toast and some zingy Budlong pickles. Besides, you could get them as a sandwich served with signature Budlong sauce, coleslaw, and of course, pickles. 
Also, ask for Budlong's Farmhouse Salad if you're looking to eat healthily. Indeed, this colorful and juicy mixture of greens with red onions, cherry tomatoes, asparagus curl, and chicken tenders is a pleasant delight.
Addresses:
1008 W Armitage Ave, Chicago, IL 60614
4619 N Western Ave, Chicago, IL 60625
222 W Merchandise Mart Plaza, Chicago, IL 60654
125 S Clark St, Chicago, IL 60654
1301 E 53rd St, Chicago, IL 60615
Daley's Restaurant
"Best Traditional Fried Chicken with Greens in Chicago"
If you know a thing or two about restaurants, the good ones are usually those that have been around for quite some time. Indeed, Daley's restaurant is one of them, beginning way back in 1892. And yes, that means the food here is exceptional.
Both Daley's regular dinner menu and Sunday Dinner feature good old crispy fried chicken. And it's dressed to perfection with fresh lettuce and shredded cheddar cheese, boiled egg, cucumbers, tomatoes, and red onion. Indeed, Daley's Crispy Chicken is deserving of a spot on this list.
Also, their side orders go terrifically with the chicken. And it includes in-house Mac and Cheese, fries, and homemade sweet potatoes, among several other yummy sides. In all, Daley's certainly delivers meals to hit the spot.
https://www.instagram.com/p/B-K6XIOHXJQ/
Address: 6257 S Cottage Grove Ave, Chicago, IL 60637
Gus's World-Famous Fried Chicken
"Best Spicy Fried Chicken in Chicago"
Now, only a place with supreme confidence in their cooking-skills can claim to serve world-famous food. So, you bet Gus's has something going on with their fried chicken.
Indeed, Na and Maggie Bonner's recipe for 'Gus's World Famous Hot and Spicy Fried Chicken' has been in the Bonner family since 1953. And the formula has become so famous that Memphis has it adopted as a part of their local tradition.
Gus's fried chicken includes servings of the breast, thighs, legs, wings, and tenders. And you can choose between the different meal types and specials. Also available are a variety of sumptuous sides, desserts, and beverages.
So, if ever around the area, make sure you treat yourself at Gus'. You bet they've got one of the best fried chicken in Chicago.
Address: 847 W Fulton Market, Chicago, IL 60607
Fry the Coop
"Best Out-of-the-Box Fried Chicken in Chicago"
So, you're looking for a trendy spot for a casual date with friends. And everybody knows good fried chicken is the standard for a long-lasting friendship. Well, Fry the Coop knows what you need.
At Fry the Coop, they're got sensational fried chicken in a variety of sandwich combos sure to be nibbled up delightfully over a chat. And you bet they've got some unique recipes like their fried chicken sandwich with spicy honey butter and Donut Fried Chicken Sandwich. They come with cheese and pickles and signature coop sauce.
Also served are various sodas, beer, and lemonade that refresh and calm the palate after a spicy bite. And yes, you also get some yum sides to eat along with the chicken. So, next time you're around, try Fry the Coop.
https://www.instagram.com/p/CM2MsYHhzKZ/
Address: 1529 W Chicago Ave, Chicago, IL 60642
Louisiana Famous Fried Chicken
"Best Fried Chicken Bucket in Chicago"
Louisiana Famous Fried Chicken is a much-beloved franchise that's been going strong since the 1970s. So, if you're looking for some fast and delicious fried food while driving by, stop by for a bucket of Louisiana Famous Fried Chicken.
They must be doing something right with their chicken to have gained many a loyal customer. So, get their popular 8- or 12-Pieces Chicken Bucket Combo with delicious and filling sides and rolls. And get to know why this chicken has made a list for yourself.
Also, you can order a refreshing soda to wash down the chicken for a satisfying and complete meal. After that, get a Pancake or Waffle Combo as dessert, and you're good to go.
Address: 1554 W Marquette Rd, Chicago, IL 60636
North Branch Fried Chicken
"Best Gourmet Fried Chicken in Chicago"
You can't undermine what a good dip or sauce can do to elevate fried chicken. And North Branch Fried Chicken delivers some of the best condiments besides fantastic chicken.
Try out North Branch's gourmet-style fried chicken with large and satisfying sides and sauces on a 4- or 8-piece dinner. The Chicago Fried Chicken sandwich that comes with fresh lettuce, mayo, tomato, and pickles is also another excellent eat. Now, that's a classic.
Also, get some soup or salad to go along with your dinner combo. Or order extra sides like their delicious Cheesy Potatoes or Napa Slaw. Indeed, this place will have you coming back for more. And oh! By no means forget the decadent Double Chocolate Cake and Cheesecake while at North Branch.
https://www.instagram.com/p/CLu8EI7lvZq/
Address: 5481 N Northwest Hwy, Chicago, IL 60630
Prime and Provisions
"Best Fried Chicken Starter in Chicago"
If you want fried chicken handled by meat experts, stop by Prime and Provisions. It's a cozy and grand establishment that combines class and comfort with tasty fried chicken.
So, fried chicken at Prime and Provisions comes with a drizzling of rich chilly bourbon maple syrup. And the combination of the tender chicken with the drizzle is simply glorious.
Indeed, Prime and Provision's fried chicken is usually a starter to an elaborate dinner. And it's so easy to fill yourself with its richness. Hence, it is best taken on the onset before you dig into their dinner menu.
After, you can complement the chicken with a nice sip of wine from their collection. Or sample the chicken alongside a lovely serving of whipped potato.
Address: 222 N LaSalle St, Chicago, IL 60601
Harold's Chicken Shack
"Best Fried Chicken wings in Chicago"
Harold's Chicken shack is another one of Chicago's very chain restaurants specializing in fried chicken.
And this chicken shack has a history of being referenced by multiple celebrities in their songs, including Kanye West and Kendrick Lamar. So, you can understand why it makes it to our list of the best fried chicken in Chicago.
Popular items on Harold's menu include fried chicken wings served with a side of fries, bread, and coleslaw. Also available are chicken breasts, white, dark, and regular chicken in varying quantities.
And if you love chicken giblets like liver and gizzard, you've got to give Harold's a try. And you can even order a side of onion rings, shrimp, or chicken nuggets with fries along with a refreshing Pop or Snapple to wash all of it in. Satisfaction is the word!
https://www.instagram.com/p/CIqUbtnHhWv/
Address: 1450 S Michigan Ave, Chicago, IL 60605
Conclusion
Finding a great place that serves fried chicken the way you like is the best feeling ever. And that's because it fits into any meal. Whether lunch or dinner, eating at home or out with friends and family. In short, it's the ultimate comfort food for any day and any time.
And a lot goes into the perfect fried chicken. Say, does it have the right consistency of batter? Is it well-seasoned? What kind of sides can you have with them?
And all of these elements matter. Hence, we hope this compilation of the best fried chicken in Chicago helps you find a new favorite. So, pick your chicken and get exploring.